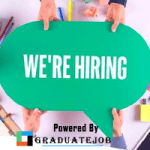 Website Greenlight Planet
Greenlight Planet is a multinational, for-profit business that designs, distributes, and finances solar-powered home energy products, with an underserved population in mind: the 1.3 billion global consumers for whom the old-fashioned electrical grid is either unavailable or too expensive. Over a decade in business, the company is now a leading global brand in emerging markets across Asia and Sub-Saharan Africa.  Greenlight's Sun King™ products provide modern light and energy to 26 million people in more than 40 countries and have sold over 10.5 million products worldwide.
Sun King Store Executive at Sun King , Qualified candidates should see the job details, Click for more Jobs
We are recruiting to fill the position below:
Job Title: Sun King Store Executive
Location: Gombe
Department: EasyBuy Direct Sales
Employement Type: Permanent – Full Time
Sun King Store Executive at Sun King
About the Team
The team you would join:
The EasyBuy Direct Sales team is the market facing arm of Sun King's pay-as-you-go (PAYG) direct to consumer sales business.
The Easy Buy Direct Sales team is in charge of recruiting, managing, and overseeing the company's network of thousands of commission sales agents, called "Energy Officers" that promote and sell Sun King's PAYG solar solutions and provide customer ongoing service in their local territories.
Through the EasyBuy PAYG solar business model, customers can purchase a Sun King solar home solution by making a small down-payment up front and paying the remaining balance through a series of installments over a period of time.
About the Role
The Sun King Shop Executive will ensure that the overall performance targets of the store are met both in terms of quality and quantity.
Responsibilities
Inventory management:
Receive stock and keep track of inventory from warehouse
Manage and issue out stock as per FIFO standards
Dispatch stocks as per requirement
Maintain and update stock cards
Keep and provide off-the -shelf sales details when needed
Maintain an updated Goods Received and Goods Issued log online
Perform daily cycle counts on stock
Receive faulty stock from the field and consolidate for disposal
Conduct monthly stock take
Manage all spare parts inventory and re-orders
Reports:
Prepare daily on hand stock report for stakeholders use
Report on daily issued out stock for replacement and or replenishment
Repairs:
Repairs and Spare Parts management
Take custody of the repair tools and tool kits
Perform basic check on the faulty units before replacement
Conduct basic repair on the in warranty returns
Store management:
Ensure the center is well maintained tidy and that the shop floor arrangement is per SKU
Ensure neatness on the repair work bench in line
Observation of safety procedures to avert hazards at the work bench
Welcome walk-in customers and provide assistance as necessary
Receive faulty components, identify the technical issue and verify warranty eligibility through several technical checks
Support Energy Officers and coordinate with Call Center in resolving customer queries
Requirements
You might be a strong candidate if you:
Have a Bachelor's Degree or its equivalent from a recognized institution in any related field.
Have 2 years' hands on experience in a service center
Have effective communication and people skills
Have broad knowledge of the Sun King products
Is able to demonstrate high levels of integrity with a proactive and positive attitude.
Have strong customer focus
Are a team player with high levels of flexibility
Have proven report-writing experience
Possess good problem-solving skills
Are a computer literate with working proficiency in MS Excel and MS Word
What We Offer
An opportunity to grow as a professional in a dynamic, fast-growing, high impact industry.
The chance to work in an open-minded, collaborative culture surrounded by enthusiastic Sun King employees who are driven by the challenge of continuously innovating and growing a smart, sustainable business with profound impact on the world.
A truly multicultural experience: you will have the chance to work with and learn from people from different geographies, nationalities, and backgrounds.
Structured, tailored learning and development programs that help you become a better leader, manager, and professional through the Sun King Academy.
Application Closing Date
Not Specified.