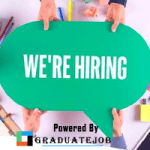 Website Progress Intellectual College
Progress Intellectual College is an established co-educational school situated at Okeigbo town of Ondo State, well furnished with excellent modern facilities. Our school is committed to nurturing and developing an all-round students capable of making a difference in the society. The motor of the school is Godliness and Excellence.
Teachers at Progress Intellectual College, Qualified candidates should Apply. Click for more Jobs
We are recruiting qualified and experienced candidates for immediate employment in the following positions below:
1.) Economics Teacher
2.) Physics Teacher
3.) Chemistry Teacher
4.) Literature in English Teacher
5.) C.R.S Teacher
Location: Okeigbo, Ondo
Employment Type: Full-time
Teachers at Progress Intellectual College
Job Details
We do not just seek conventional teachers; our search is for teachers who have the drive and passion for excellence. Teachers, who are willing and ready to learn, relearn the art of delivering outstanding lessons while infusing technology in the lesson delivery.
The ideal person must be a goal-getter, resilient and have the ability to remain calm in pressured moments.
We offer opportunities for career advancement, top-notch training and growth opportunities, unrivaled exposure to 21st-century teaching techniques, and an atmosphere for personal development.
Due to significant growth and in line with our commitment to providing adequate care for all pupils enrolled with us, we seek to hire motivated, vibrant and tech-driven educators who are willing to break new frontiers in the education space.
Requirements
TRCN Certification will be an added advantage.
To be considered for any of these roles, you must be given to continuous growth and development, be tech-savvy, and have the ability to adapt well in a fast-paced work environment.
Application Closing Date
16th November, 2023.
Method of Application
Interested and qualified candidates should send their CV to: jobs@progressschools.com OR progressschools.com@gmail.com using the Job Title as the subject of the email.
OR
Submit to:
The Principal's Office,
Progress Intellectual College,
Progress Road, Okeigbo,
Ondo State.
Note: Applicants not willing to relocate should not bother to apply.