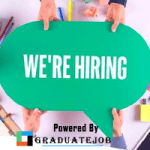 Website 1% Marketing
1% Marketing - We rise by raising others. At the 1% Marketing we prioritize ourselves in developing our staff to be of service to man kind and also the be the beat Marketing firm in the globe. We currently run multiple projects but mostly revolves around risk optimization
Telesales Representative at 1% Marketing, Qualified candidates should Apply. Click for more jobs
We are recruiting to fill the position below:
Job Title: Telesales Representative
Location: Abuja
Employment Type: Part-time
Telesales Representative at 1% Marketing
Job Description
Are you a persuasive communicator with a passion for sales? We are seeking a Telesales Representative to join our team. As a Telesales Representative, you will be a key player in reaching out to potential customers over the phone, presenting our products/services, and converting leads into valuable clients. If you're enthusiastic about sales and ready to make an impact, this role is an excellent fit for you.
Responsibilities
Make outbound calls to potential customers from provided lists or leads.
Present products/services to prospective clients with enthusiasm and confidence.
Engage in effective sales conversations to understand customer needs and tailor offerings.
Address customer inquiries, objections, and concerns to build trust and rapport.
Utilize persuasive communication techniques to close sales and meet targets.
Maintain accurate records of customer interactions and sales activities in the CRM system.
Collaborate with the sales team to achieve individual and team sales goals.
Stay updated on product knowledge, pricing, and promotions.
Continuously improve your sales techniques through training and feedback.
Contribute to a positive team environment and share best practices.
Qualifications and Skills
Candidates should possess a Bachelor's Degree qualification.
Proven experience in telesales or a similar sales role is a plus.
Strong communication skills, both verbal and written.
Persuasive and engaging demeanor with exceptional listening skills.
Resilience and the ability to handle objections and challenges positively.
Goal-oriented and self-motivated with a desire to exceed targets.
Team player who thrives in a collaborative environment.
Proficiency in using CRM systems is advantageous.
Benefits
Flexible working hours.
Mentorship training.
Training program.
Application Closing Date
31st October, 2023.
How to Apply
Interested and qualified candidates should send their Application and CV to: muhammed@onepercentclub.net using the Job Title as the subject of the mail.