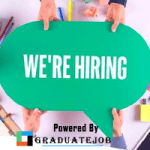 Website Integrated Field Development Consultants
Integrated Field Development Consultants (IFDC) is a specialist upstream oil & & gas consultancy firm set up to provide uniquely integrated solution for oil and gas investors, operators and other key players in the industry. IFDC was founded in 2009 by a group of highly experienced geoscientists and engineers.
Trainee at Integrated Field Development Consultants (IFDC) Limited, Qualified candidates should Apply. Click for more Jobs
We are recruiting to fill the position below:
Trainee at Integrated Field Development Consultants
Job Title: Trainee
Location: Lekki, Lagos
Employment Type: Full-time
Responsibilities
Petroleum Engineer:
Deliver high-quality projects to clients in a professional and timely manner.
Ability to work under pressure and deliver high-quality projects in a timely manner is a must-have requirement Exploration support and business development; a proven record of being able to work within tight deadlines.
Working in a multidiscipline environment with Geoscientists, other Petroleum Engineering Team and Facilities Engineers.
Keep abreast of international standards and practices, including new and emerging technologies.
Geoscientist:
Analyzing geological data and samples.
Conducting geological seismic interpretation and making maps
Estimating the volume of oil and gas resources.
Evaluating drilling sites for safety and feasibility.
Collaborating with other professionals in the oil and gas industry.
Qualifications
BSc. Engineering / BEng or B.Sc Geology / Geophysics
NYSC completion with discharge certificate.
0- 1 year experience
Can work individually and with team
NYSC hands-on experience with Operating Oil and Gas company will be an added advantage
Willing to learn
Female/Male
Application Closing Date
13th November, 2023.
How to Apply
Interested and qualified candidates should send their Application and CV to: info@ifdcconsulting.com using the Job Title as the subject of the mail.
Note: Only shortlisted applicants will be contacted.