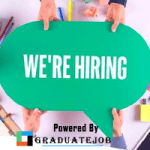 Website ToNote Technologies Limited
Graphics / UI Designer at ToNote Technologies Limited, Qualified candidates should Apply. Click for more Jobs
ToNote Technologies Limited, a legal tech start-up, is currently recruiting suitable candidates to fill the position below:
Job Title: Graphics / UI Designer
Location: Victoria Island, Lagos
Employment Type: Full Time
Experience Level: Experienced
Graphics / UI Designer at ToNote Technologies Limited
Job Summary 
We are looking for an experienced and qualified candidate to fill this position.
We are looking for a candidate with a keen eye for design for the position of Graphics/UI designer that would be responsible for developing, designing, and revising user-facing aspects of the application and website.
The ideal candidate would be responsible for the graphical design and implementation of all the experiences a user has when interacting with all our digital tools, especially websites.
Responsibilities
Graphics Design:
Illustrating concepts by designing and developing graphical elements
Develop and present mockups and wireframes to team members and management, incorporating feedback and revision requests, and presenting updated versions before the project moves into the final design stage.
Creating, improving and maintaining an appropriate range of graphic content to align with the company's branding strategy
Prioritize project needs, produce content, identify solutions, and resolve issues with management, product development, marketing, and other stakeholders.
Identify issues uncovered during testing based on feedback from internal and external clients, and correct or refer issues to the appropriate teams for resolution.
Create style guidelines for ToNote's website content and procedures for continuous website development and maintenance.
UI Design:
Communicate with the relevant team or network specialists, as well as any external website hosting services, to resolve any software or hardware issues that are affecting website performance or availability.
Write, Design and modify the material for ToNote's webpages, as well as execute website upgrades as needed.
Develop top-notch features in terms of speed, consistency, functions and aesthetics to maximise ToNote website users' experience.
Investigating user experience design requirements for our suite of digital assets.
Developing and conceptualizing a comprehensive UI/UX design strategy for the brand.
Producing high-quality UX design solutions through wireframes, visual and graphic designs, flow diagrams, storyboards, site maps, and prototypes.
Collaborate with external consultants on the design, development, and maintenance of the ToNote website, making use of the relevant coding and scripting languages, content management tools, and other associated software programs.
Designing UI elements and tools such as navigation menus, search boxes, tabs, and widgets for our digital assets.
Testing UI elements such as CTAs, banners, page layouts, page designs, page flows, and target links for landing pages.
Collaborating with the marketing team, and internal and external designers to ensure the creation and delivery of tailored experiences for the digital user.
Adhering to style standards on typography and graphic design.
Requirements
A Bachelor's Degree and 2 – 3 years of Graphics and UI/UX design experience for digital products or services.
Minimum Qualification: B.Sc
Experience Length: Minimum of 3 years
Have a strong sense of what users expect from the software, website or application and understand how design elements work with backend elements to balance attractive design with ease of use.
Understanding of marketing, website design, corporate identity, advertisements, and multimedia design.
Multi-tasking and time-management skills, with the ability to prioritize tasks.
A strong eye for visual composition.
Ability to use front-end coding languages like HTML, CSS, and JavaScript to design and tweak specific aspects and elements.
Application Closing Date
Not Specified.
Method of Application
Interested and qualified candidates should send us an email with whatever you think could be useful to know you better (e.g: a Portfolio, Instagram Page, a Website, a TikTok video) via: olaide@gettonote.com using the Job Title as the subject of the email.