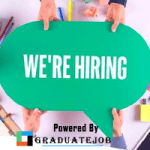 Website Uni Technology Nigeria Limited
Uni Technology Nigeria Limited Job Recruitment, Qualified candidates should Apply. Click for more Jobs
Uni Technology Nigeria Limited, a company that provides financial services to the public, is recruiting suitable candidates to fill the position below:
Job Title: Accountant
Location: Ikeja, Lagos
Employment Type: Full-time
Job Description
An Accountant helps businesses make critical financial decisions by collecting, tracking, and correcting the company's finances.
They are responsible for financial audits, reconciling bank statements, and ensuring financial records are accurate throughout the year.
Responsibilities
Tracking payments to internal and external stakeholders
Preparing budget forecasts
Processing tax payments and returns
Manage all accounting transactions
Prepare budget forecasts
Publish financial statements in time
Handle monthly, quarterly and annual closings
Reconcile accounts payable and receivable
Ensure timely bank payments
Compute taxes and prepare tax returns
Manage balance sheets and profit/loss statements
Report on the company's financial health and liquidity
Audit financial transactions and documents
Reinforce financial data confidentiality and conduct database backups when necessary
Comply with financial policies and regulations
Requirements and Skills
B.Sc in Accounting, Finance or relevant degree
Additional certification (ICAN,ACCA,ACA) is a plus
Work experience as an Accountant( with 3-5 year working experience)
Excellent knowledge of accounting regulations and procedures, including the Generally Accepted Accounting Principles
Hands-on experience with accounting software
Advanced MS Excel skills including Vlookups and pivot tables
Experience with general ledger functions
Strong attention to detail and good analytical skills.
Salary
N150,000 – N180,000 / month.
Application Closing Date
2nd December, 2023.
How to Apply
Interested and qualified candidates should send their CV to: olusola@utechnolog.net using the Job Title as the subject of the email.
Job Title: Financial Research Specialist
Location: Nigeria
Employment Type: Part-time
Responsibilities
In charge of user experience research of financial service providers in Egypt, Pakistan, Kenya, Tanzania, Uganda, etc.
Follow the provided instructions and ensure that all important details in the process are duly recorded by screenshots or screen videos.
A report of each targeted application should be concluded after experiencing and recording.
Qualifications
Local citizens and mother language spoken from Egypt, Pakistan, Kenya, Tanzania, Uganda, as well as proficiency in English.
Familiarity with local financial service providers and related service providers.
Good communication skills and result-oriented.
Salary Range
Negotiable Salary: $400-500 USD / Month, $100-125 USD / Week, $20-25 USD / Day.
Application Closing Date
30th December, 2023.