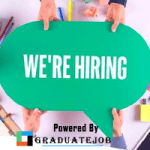 Website Gmart Alliance
Gmart Alliance is a new age global resource corporation whose goal is to fuse technology and innovation to provide solutions across borders. Priding ourselves in efficiency and the impact we seek to make in the socio economic community, we understand the need for more efficient and convenient means of trading and resources acquisition, hence, we have developed an operating structure that is designed to solve major problems.
Account Receivables Officer at Gmart Alliance, Qualified candidates should Apply. Click for more Jobs
We are recruiting to fill the position below:
Job Title: Account Receivables Officer
Location: Chevron, Lagos
Employment Type: Full-time
Account Receivables Officer at Gmart Alliance
Requirements
A Bachelor's Degree in Finance, Accounting, or a related field.
3-5 years previous experience in accounts receivable or a similar financial role.
Familiarity with accounting software is usually required. Experience with programs like QuickBooks or SAP can be a plus.
Strong communication skills are essential, as the role involves interacting with both internal teams and customers to resolve payment issues.
The ability to analyze financial data, identify discrepancies, and problem-solve is crucial.
Ability to manage multiple accounts, strong organizational skills are often required to keep track of payments and follow up on overdue accounts.
Application Closing Date
Not Specified.
How to Apply
Interested and qualified candidates should send their CV to: Recruitment@gmartalliance.com using "Account Receviables" as the subject of the mail.