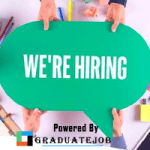 Website PachaMama Foods
PachaMama Foods is an agri-business Nigerian company dedicated to the production and sales of quality natural, healthy, tasty and affordable food without compromising international quality standards. We provide solutions to key nutritional problems in children and adults especially in developing countries. The name "PachaMama" is translated in English as Mother Earth and inspired by this, we likened it to "Mother Earth without corruption", hence at PachaMama Foods, we sell foods made with the best quality locally sourced non-GMO ingredients gotten from small/medium size farmers who with us believe in sustainable farming. We believe in honest and clean food – the way it should be – Good food and good health should never be compromised.
Administration Coordination Officer at PachaMama Foods, Qualified candidates should Apply. Click for more Jobs
We are recruiting to fill the position below:
Job Title: Administration Coordination Officer
Location: Yaba, Lagos
Employment Type: Full-time
Administration Coordination Officer at PachaMama Foods
Job Description
Have a comprehensive knowledge of all products and the company.
Plan and coordinate general administrative procedures and systems in the office and devise ways to streamline processes.
Coordinating delivery schedules, arranging meetings, distributing memos, and ensuring that everyone is kept current with necessary company news and information.
Take and distribute detailed minutes of all official meetings.
Controlling and managing stock by maintaining stock inventory in warehouse and office by taking delivery of stock and items for the company and request for supplies when low and needed.
Ensure stock is regularly checked in supermarkets for quality control, visibility and availability.
Train regularly all staff on all products, health benefits and FAQs.
Respond to customers who may need assistance with orders, queries, requests and complaints professionally, courteously, timely and push for sales while managing the company phone lines and social media DM.
Obtain the sales requests from sales team and liaise with Factory team (Chief Operations Manager) to ensure products and information are well coordinated for final delivery to Client.
Monitor overdue payments and ongoing orders.
Sort and distribute incoming mail and handle outgoing mail.
Preparing documentation or PowerPoint presentation materials as required for business purposes.
Develop and maintain an effective filing system ensuring confidentiality and security of files and the filing systems.
Ensure all company's forms are filled in when necessary and filed accordingly.
Maintain contact lists and up-to-date supermarket records.
Provide weekly and monthly reports as directed.
Maintaining, Running of Petty Cash book and preparation of petty cash account.
Manage Office Assistant and Drivers.
Other duties as may be required.
Qualifications
Interested candidates should possess a Bachelor's Degree with 2-5 years experience.
Salary
N80,000 – N100,000 / Month
Application Closing Date
31st October, 2023.
How to Apply
Interested and qualified candidates should send their CV to: humanresources@revenstrat.com using the Job Title as the subject of the mail.