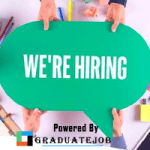 Website A Media and Public Relations Company
Media Relations Officer & Copywriter at a Media and Public Relations Company, Qualified candidates should Apply. Click for more Jobs
A media and public relations company, in the business of providing media, branding and public relations services in Nigeria.
We are recruiting to fill the position below:
Job Title: Media Relations Officer & Copywriter
Location: Lagos
Employment Type: Full-time
Interview Dates: November 21st – 25th, 2023
Compensation Package: TBD
Media Relations Officer & Copywriter at a Media and Public Relations Company
Job Description
A media company is seeking a dedicated, efficient and result-driven Press Relations Specialist to join its team. The successful candidate must have 3 years of experience in managing press relations activities, content creation, enviable writing skills, a good understanding of the Nigerian and international media landscape, strong media list contacts and the ability to work in a fast paced environment.
Summary of Responsibilities and Tasks
The following outlines the fundamental duties and responsibilities.
Take the lead in the development, implementation, and assessment of both internal and external media-focused communication plans.
Act as the primary point of contact for all media inquiries, managing day-to-day media relations and requests on behalf of the company and its clients.
Collaborate with team members promptly to determine suitable media responses through various channels.
Create written materials, including press kits, articles, publications, and standby statements pertaining to brand and corporate issues as needed.
Provide guidance to junior colleagues responsible for updating the company's website with weekly media content.
Demonstrate the ability to recommend appropriate media channels for client briefs, delivering key insights such as impressions, reach, viewership, and more.
Manage both internal and external media events.
Foster relationships with significant media contacts and identify opportunities to proactively promote brands and integrate stories across all media platforms.
Oversee client briefs from their inception to completion, with support from the media relations team.
Offer guidance and direction on all matters related to media relations for both the company and its clients, ensuring that all Brand PR materials are accurate, relevant, and consistent with the overall objectives.
Develop, coordinate, and evaluate the effectiveness of in-house media programs, providing feedback to the business.
Establish a comprehensive database of media contacts across all platforms.
Deliver weekly and monthly media reports for both the company and its clients.
Organize and manage media presence during events such as press conferences and junkets.
Provide effective crisis management solutions as needed.
Conduct research and analyze public sentiment.
Secure earned media coverage for all client briefs.
Requisites for the Press Relations Specialist
Possession of a Bachelor's Degree in fields such as Communications, Journalism, Public Relations, Administration, or related disciplines.
A minimum of 3 years of experience in roles related to Strategic Media Relations or Public Relations.
A favourable track record in creating and executing successful regional public relations campaigns is a valuable advantage.
Proficiency in oral, written, and interpersonal communication skills, along with strong writing and editorial capabilities, is essential.
Exceptional organizational skills and the ability to manage multiple tasks effectively.
Proven success in utilising Social Media tools – LinkedIn, Twitter, Instagram, Threads, Facebook, YouTube, and others is a positive factor.
Strong project management skills are necessary and people's skills.
The capacity to meet strict deadlines and flawlessly execute projects in a fast-paced, often high-pressure environment, ensuring project completion.
The ability to act as an influential communication consultant within the organisation.
Effective collaboration and interaction with the Press across all levels.
A solid understanding of the Financial Market.
Proficiency in working as part of a team.
Capable of maintaining confidentiality and maintaining a high level of information accuracy.
Active participation in brainstorming sessions.
Providing support and guidance to the team.
Additional Qualifications:
Possession of an extensive database of media contacts.
Skills:
Familiarity with the Financial Market and Stock Market, such as NYSE and NSE.
Awareness of both the Local and International Media Landscape and Practices.
Strong critical thinking and decision-making skills.
Effective negotiation skills for working with the Press across various platforms.
Excellent written and verbal communication skills.
High energy and enthusiasm.
Proficiency in networking and building relationships.
Strong planning and organizational abilities.
Effective problem-solving skills.
A keen interest in staying updated with new technologies and trends.
Mathematical proficiency.
Employee Benefits
Health Maintenance Organization (HMO) coverage after one year of service
Performance-based bonus after six months.
Work Schedule:
Mondays to Fridays: 9:00 AM – 5:00 PM. You are expected to leave the office at the designated closing time. In cases where assigned tasks remain incomplete, you are responsible for completing them off-site and keeping your supervisor informed of the task's status.
Official Working Hours:
The company's official working hours are from 9:00 AM to 5:00 PM, Monday through Friday, with a 30-minute daily lunch break.
Salary
N120,000 – N150,000 / month.
Application Closing Date
28th November, 2023.
How to Apply
Interested and qualified candidates should send their Applications to: nkechi@3101media.com using the Job Title as subject of the email.