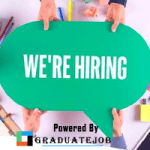 Administrative / Management Trainee at Cavine Ventures Limited, Qualified candidates shouldApply. Click for more Jobs
Cavine Ventures Limited is a firm of highly versatile & renowned Human Resources, Organisational Development and Management consultants, with a team of over thirty employees across Nigeria.
We have a comprehensive understanding of the Nigerian business terrain and we are very passionate about partnering with indigenous organisations to develop Universal HR solutions, systems, processes and structures required to develop and effectively drive our clients' corporate strategies.
We are recruiting to fill the position below:
Job Title: Administrative / Management Trainee
Location: Ikeja, Lagos
Employment Type: Full-time
Administrative / Management Trainee at Cavine Ventures Limited
Responsibilities
Participate in creating and implementing training programs.
Maintain training records like trainee lists, schedules, attendance sheets.
Book lecture rooms and ensure they're properly set up.
Prepare and disseminate material which includes instructional notes, feedback forms.
Act as a point-of-contact for vendors and participants.
Handle accounts receivable and ensure invoices are paid.
Resolve issues as they arise on site.
Submit reports on training activities and results.
Recommend improvements or new programs.
Ensure employees and vendors follow established policies.
Requirements
B.Sc / BA in Business, Psychology or a relevant field.
Proven experience as a graduate trainee, Training Administrator, HR Assistant or similar role.
Experience in project management (added advantage)
Knowledge of office procedures and billing
Proficient in MS Office; working knowledge of databases and Learning Management Systems is a plus.
Excellent organizational and multitasking ability
Outstanding communication skills.
Strong attention to detail.
Application Closing Date
16th March, 2022.
Method of Application
Interested and qualified candidates should send their CV to: info.cavineventuresltd@gmail.com using the Job Title as the subject of the mail.