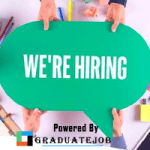 Website Tincan Island Container Terminal
High Caliber Nigeria Limited is a human resources/management consultancy company. We specialize in the following areas: Outsourcing, Recruitment and Placement, Human Capacity Development (Training), Staff Audit, Advisory and Human Resources Management.
Operator Trainee at Tincan Island Container Terminal, Suitably qualified candidates should Apply. Click for more Jobs
We are recruiting to fill the position below:
Job Title: Operator Trainee
Location: Apapa, Lagos
Employment Type: Full-time
Operator Trainee at Tincan Island Container Terminal
Job Summary
The RTG operator role deploys assigned RTG crane to carryout all discharges and loading of TUEs within allocated shift.
Roles and Responsibilities
Execution (Stacking, Sorting, Loading & Off-loading):
Operates the RTG crane to load and unload containers to and from internal and external road trucks in the Terminal.
Navigates the RTG according to the Traffic Management Plan and Yard Supervisor and equipment handling instructions.
Handles the containers with care (Avoid Rough handling on Trucks).
Performs equipment precheck at beginning of shift to ensure that all of the parts are operating properly.
Operates the RTG safely according to the received instructions / information from the Yard Supervisor while carrying out all RTG activities (Discharge, load, Re-Stow etc.).
Achieves all agreed targets productivity with Zero Accident
Reports all the defects as and when noticed to RTG Manager.
Carries out duties and tasks in an efficient, productive manner.
Performs other related duties as required.
Acts as foreman under Hook when not operating the RTG Cranes.
Safety & Compliance:
Follows safe operating procedures and instructions, preventing any injury to persons, or damage to containers and other equipment and property.
Identifies and reports any safety problems, malfunctions, or damage to quay crane equipment, before, during or after the shift.
Application Closing Date
Not Specified.