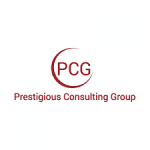 Website Prestigious Consulting Group
Prestigious Consulting Group is a Professional HR Consultancy Firm. We focus on improving organizational performances through strategic people & process management. We focus on finding the best talents across Nigeria for our clients.
We are recruiting to fill the positions below:
Jobs at Prestigious Consulting Group
Job Title: Cleaning Supervisor
Location: Lekki Phase One, Lagos
Employment Type: Full-time
Job Responsibilities
The supervision of all cleaning staff focussing on their performance in terms of standards of cleanliness and their behaviour whilst on duty
Ensuring that a first-class cleaning service is delivered to all areas of the building
Reviewing work schedules
Ordering of cleaning materials
Monitoring of all cleaning activities
Ensuring all staff are aware of the Health and Safety policies and procedures
Requirements
The successful candidate for this role will have:
Candidates should possess a Bachelor's Degree with 1-2 years experience.
Previous experience in a cleaning environment
Previous experience of managing a team
The ability to implement and adhere to standards and procedures
Health and Safety experience
Good interpersonal skills
BICs cleaning qualification or equivalent is also desirable, but not essential
Job Title: Cleaner / Housekeeper
Location: Lekki Phase One, Lagos
Employment Type: Full-time
Job Description
Vacuuming, sweeping, and mopping floors of various types.
Dusting ceilings, light fittings, countertops, and loose furniture.
Scrubbing and sanitizing toilets, sinks, and kitchen fixtures.
Emptying trash cans.
Washing and drying windows.
Liaising with the line manager to ensure that you have sufficient cleaning products at all times.
Reporting any breakages that occur during the cleaning process.
Informing the line manager of repairs that need to be done.
Requirements
High School Diploma or equivalent is advantageous.
1 – 2 years relevant work experience.
Proven experience in a similar role.
Able to use a variety of cleaning products and equipment.
Able to stand for extended periods of time.
Excellent organizational skills.
Able to complete tasks on time with minimal supervision.
Available to work mornings and evenings, plus weekends, as needed.
Application Closing Date
10th October, 2023.