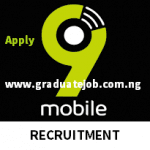 Website 9mobile Nigeria
9mobile is a Nigerian private limited liability company. EMTS acquired a Unified Access Service License from the Nigerian Communications Commission in 2007. The License enables EMTS provide Fixed Telephony (wired or wireless), Digital Mobile Services, International Gateway Services and National/Regional Long Distance Services in addition to spectrum assignments in the 900 and 1800 MHz bands.
Senior Engineer, IP Core Transmission at 9mobile Nigeria, Qualified candidates should Apply. Click for more Jobs
We are recruiting to fill the position below:
Job Title: Senior Engineer, IP Core Transmission
Job: IRC4707
Location: Abuja
Employment Status: Permanent
Senior Engineer, IP Core Transmission at 9mobile Nigeria
Job Summary
Plan and design nodes, sites & links within the national IP/MPLS Edge & Core Networks and ensure ongoing development aligns with the organization's business plan.
Principal Functions  
Produce network convergence hierarchy, topology, architecture and infrastructure redundancy plan for VPN service integration, regional service provider edge aggregation and IP Core Transport via the multi-service backbone.
Interface with Transmission specialists and Topology for planning of optic (DWDM) backbone connectivity, capacity planning and allocation for efficient transport of all internal and external data traffic.
Plan, design and optimize routing & transport technologies for provider EDGE aggregation and core transport network integration and verify requests, justify needs and classify all requested networks and services for MPLS VPN integration.
Plan, deploy and evolve Quality of Service techniques at the network Edge and in the MPLS core network.
Plan all backbone integration events, issue work orders and control project processes for capacity expansion, node integration and/or new service introduction.
Conduct weekly& monthly network performance monitoring, trend analyses, capacity planning and expansion in line with network growth trends and increase in traffic.
Develop and evolve IP addressing, naming and numbering formats of all network nodes and elements in the IP/MPLS backbone.
Produce and evolve designs for integration and extension of IP/MPLS edge functionality to the campus LAN Core at all IP Backbone locations.
Plan schedule and conduct site visits and surveys for accurate and effective network design, dimensioning and integration planning.
Assist in network capacity planning, network disaster recovery planning, Network synchronization planning, contact management, project management, SLA (Service-level agreements specifications)
Provide transport dimensioning input towards core strategies.
Provide input towards architectural and topology plans of the entire core network.
Help monitor technology evolution and match vendor strategy.
Evaluate cost benefit of media technologies.
Perform other duties as instructed by the Manager, IP Planning & Enterprise Solution.
Educational Requirements
First Degree or its equivalent in Electrical Engineering
Minimum of 4 years relevant work experience
Cisco Certification in Routing & Switching required (CCNP).
Knowledge:
Telecommunications& Mobile Network Standards & Specifications
IP Network design& Planning.
Skills:
Problem Solving
Communication
Behaviour
Passion forExcellence
Integrity
Empowering people
Growing people
Teamwork
Customer Focus.
Application Closing Date
Not Specified.